A great way to jump start your collection and save money!
These one of a kind TB Seal collections are larger and more comprehensive than those listed at the end of most countries on this website. Included are many scarce items and countries I have been out of stock on for several years. Call or email if interested, and I will count pages, seals, and list highlights. If you do not see your country of interest, let me know, as I have many more of these collections to add up.
US Christmas Seal Collections
USA 1907 thru 1918. Very nicely mounted in custom computer album made by an old member of the CS&CSS, with most all perforation and type varieties, and including some proofs and freaks. All seals are in mounts.$1175.20 at my regular (cheap) prices. Yours for $846.00
USA 1907 thru 1984 nicely mounted volume on 1992 White Ace pages (non White Ace binder) $99.15 at my regular (cheap) prices, yours for $69.50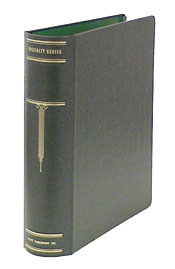 Giant Worldwide Tuberculosis Seal collections - a Great Value!
Aden through Zambia, housed in nearly new Scott specialty binders, and pages, and all seals in mounts. Take 25% off these prices, and I can sell you the country of your choice.
Australia volume 1 $1055.95
Australia volume 2 $652.35
Australia volume 3 $182.90
Danish West Indies $274.50
Germany $698.15
Great Britain $677.60
Iceland $1404.40
Monaco $267.60
Netherlands $713.60
Norway $298.75
Sweden $404.95
Thiland $207.65
South Africa $366.70
Foreign volume 1 (no binder)- Aden $9.00, Algeria $52.50, Austria $74.00, Bangladesh $37.50 and Bechuanaland $1.85
Foreign volume 3 (no binder)- , Burma $16.75
Foreign volume 4 (no binder)- Chile $52.50
Foreign volume 5 - Cyprus, Czechoslovakia, Dahomey, Dutch Indies + and Netherland Antilles (Aruba & Curacao) $474.40
Foreign volume 6 - Egypt, Ireland, Estonia, Ethiopia, Faroe Islands and Formosa (Nationalist China) $421.25
Foreign volume 7 - Ghana, Greece and Greenland $354.70
Foreign volume 8 - Guadeloupe, Honduras, Hungary, Indo China, Indonesia, Iran, Iraq, and Israel $232.10
Foreign volume 9 - Ivory Coast, Jamaica, and Jutland $264.00
Foreign volume 10 - Latvia, Lebanon, Luxenbourg, Macedonia, Malasia, Malaya and Mali $154.15
Foreign volume 11 - Mexico and New Zealand $263.95
Foreign volume 12 - Nigeria $5.00, North Borneo $73.25, Poland $266.35
Foreign volume 14 - Portugal $445.30
Foreign volume 15 - Romania, Singapore, South Vietnam, Southern Rhodesia (Zimbabwe) and Spain $459.45
Foreign volume 16 - Switzerland $594.45
Foreign volume 17 - Tangier, Trinadad and Tobago, Tunesia, Turkey, and Upper Volta $219.05
Foreign volume 18 - Western Samoa, Yogoslavia and Zambia $320.40
Unmounted in file folder - Bermuda sheets, Colombia sheets, 1940 Great Britian sheet, India sheets, Ireland proofs, Philippine sheets, 1907 Sweden sheet $1188.57
Individual Tuberculosis Seal Country Collections - Different from the Above
Argentina $323.00, yours for $242.25
Austria $147.75, yours for $110.75
Brazil $372.25, yours for $279
Canal Zone $3.40, yours for $2.55
Colombia $92.45, yours for $69.25
Cyprus $3.80, yours for $2.85
Czechoslovakia $175.85, yours for $131.85
Denmark $297.20, yours for 222.75
Finland $61.45, yours for $46.00
German Nationals $343.15, yours for 257.25
German nationals & locals $383.30, yours for $287.47
Iceland $587.2, yours for $440.25
India $131.35, yours for 98.50
Israel $166.60, yours for $124.95
Italy $250.00 +, Henry Irwin's old collection, yours for $187.50
Ivory Coast $28.00, yours for $21.00
Japan $710.67, yours for $533.00
Japan, another fine collection $527.67, yours for $395.50
Japan $255.80, yours for $191.85
Mali $10.50, yours for $7.85
Mexico $122.10, yours for $85.47
North Borneo $74.00, yours for $55.50
Norway $120.55, yours for $90.41
Panama $38.40, yours for $28.80
Portugal $661.20, yours for $495.90
Sabata $37.95, yours for $28.46
Spain $291.60, yours for $218.70
Suriname $37.50, yours for $28.12
Switzerland $222.15, yours for $166.60