1) horizontal format posters were used on public transportation (buses and subway cars), and seem to have been phased out in the 40's.
2) vertical format Christmas Seal posters, first issued in 1920, form a long series which came in several different sizes.
Poster Collection, 20 diff 11"x13" size + 2 mini posters 8 1/2 x 11" 1968, 1969, 1972, 1976 through 1991, 1993 + 2 mini posters for 1976 and 1977 regular price $120, yours for $100 postpaid
The following large posters are $50 each, unless otherwise stated, smaller posters follow the large ones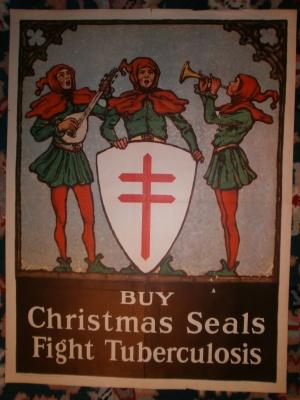 1926 21x28" with seal design, skinned on front, tears, rough 75.00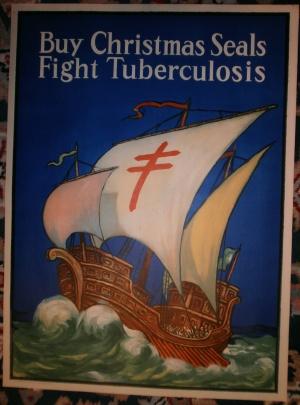 1928 19x26" nice condition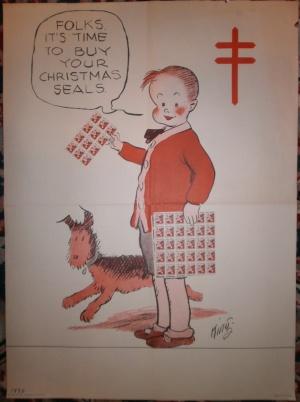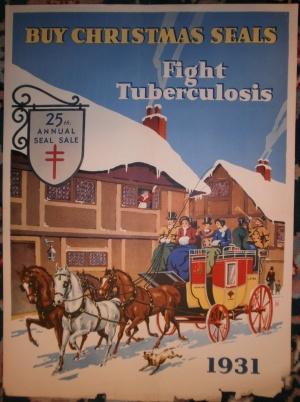 1930 large size, comic strip artist?
1931 19x26 rough at bottom
1931 19x26" scotch tape stains
1932 19x26" some roughness
1933 aprox 24 x 12" colorful horizontal poster with enlarged seal design, nice condition 35.00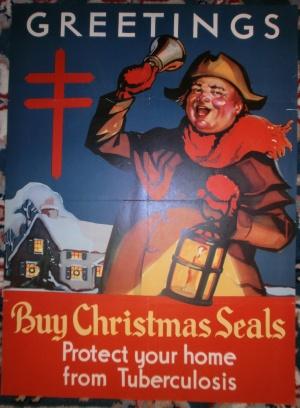 1937 19x26 OK
1937 19x31" a little rough at top, "Brooklyn TB & Health Assoc" at bottom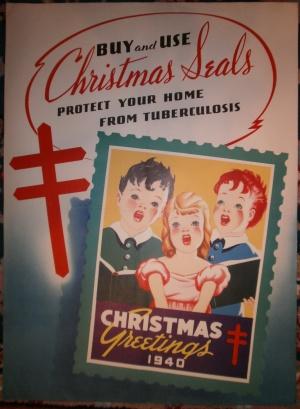 1940 19x26 OK
1940 22x16 nice, with seal design in green, with red double barred cross, "Buy Christmas Seals..."
(1941 seal designer, Stephen Dohanos), family around table with cats, numerous folds, looks OK from front
1940 14" x 17" picturing postman delivering mail to children, 1940 seal design, and the Postmaster of Brooklyn, very nice, folded.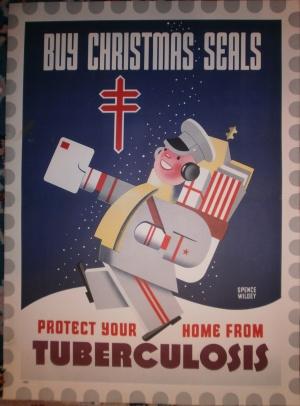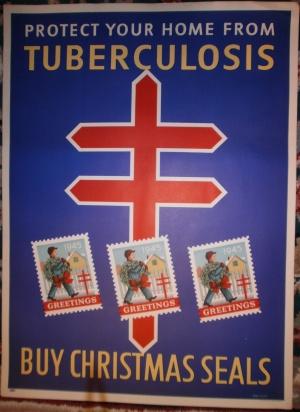 1944 19x26" OK
1945 19x26" nice condition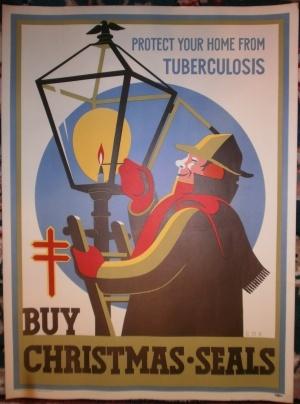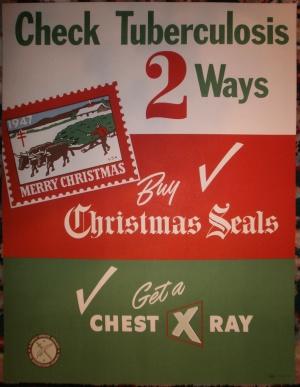 1946 19x26" nice condition
1947 19x26" OK, but 1x 1/2" piece missing at top
1947 17x22" "Buy Christmas Seals and Get a Chest X-Ray", nice condition $20.00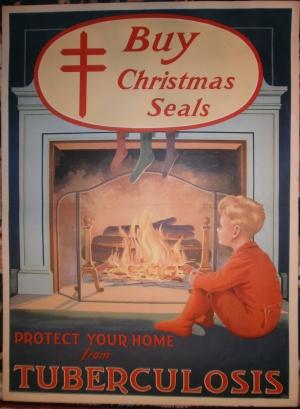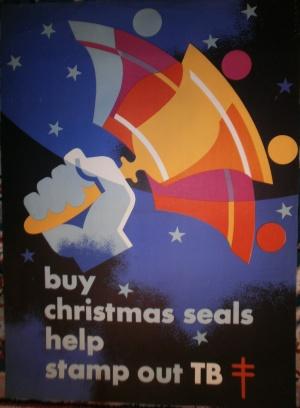 1948 19x26" nice condition
1949 19x26" nice condition
1950 16x22" "Buy Christmas Seals Fight TB"
Smaller Posters, 11"x13" + size, full color enlarged Christmas Seal Designs,
so Like the large posters, only smaller.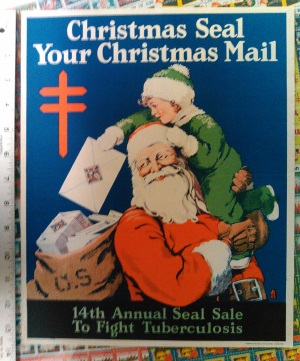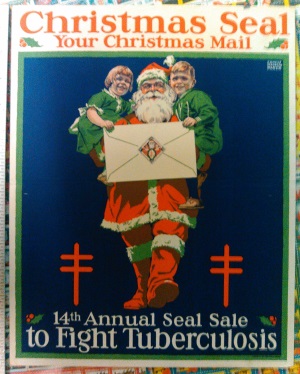 1921  Santa carrying child, fresh, but folded $75.00
1921  Santa walking and carrying two children, fresh, but folded, small nick in top edge - SOLD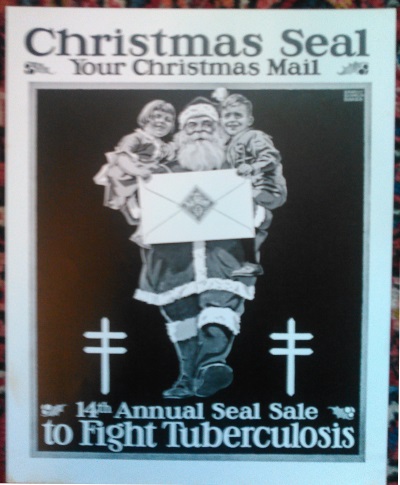 1921 black proof $75.00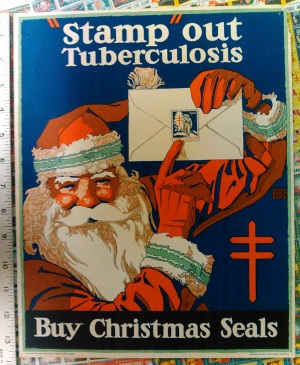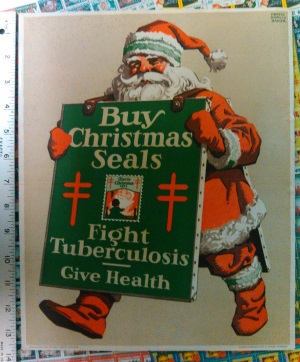 1922 Santa pointing to seal on back of envelope - Wanted
1923 Santa with plackard, with seal design, fresh, but folded - SOLD
1925 die cut card board stand up, great color with enlarged seal design, fine condition with a little wear $50.00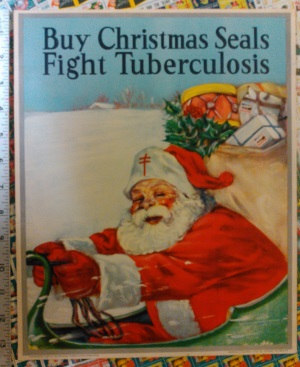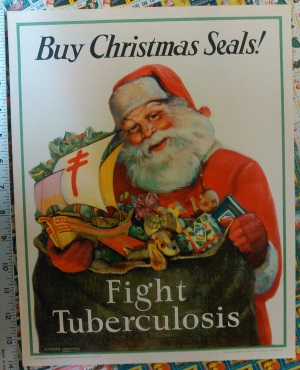 1927 Santa in sleign, Gifts have seals on them - Wanted
1928 Santa with bag of toys, Ship, seal design, fresh, unfolded 75.00
1928 small faults $50.00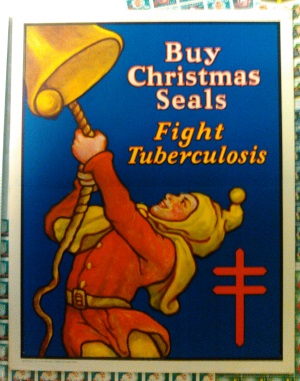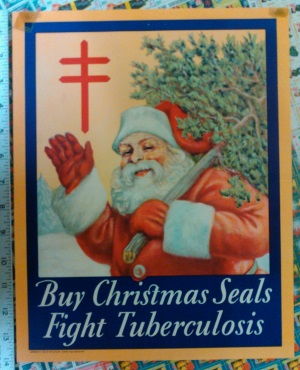 1929 small faults $50.00
1930 Santa and Tree, scotch tape stains upper corners, folded, otherwise, nice 35.00
1931 on card or paper, excellent condition $50.00
1932 on card, excellent condition $35.00
1932 on paper, excellent condition $35.00
1932 proof with registration lines and 2 in the margin, signature OKed, 15" x 12" 50.00
1933 on card, excellent condition $50.00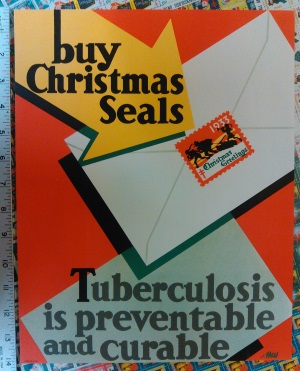 1933 on paper, unfolded 50.00
1933 some damage $35.00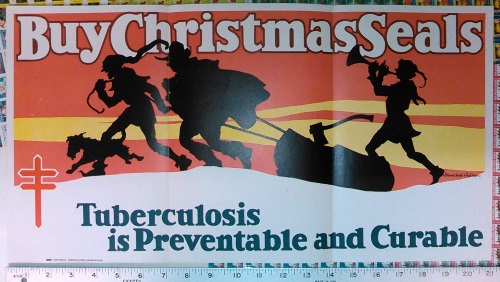 1933 horizontal poster, nice condition, but folded 35.00
1933 Christmas Seal horizontal Poster Proof, folded with wide margins 50.00
1933 horizontal poster, multiple creases & scotch tape on back $15.00
1934 on card $50.00
1934 Disney, 10 1/2" x 15", 3 little pigs with Christmas Seal design, folded, fresh with pin holes in corners 99.00
1935 on card, excellent condition $50.00
1935 on paper, excellent condition, unfolded 50.00
1935 on paper, folded, few sm pieces missing $35.00
1935 proof, folded with registration guide lines and color blocks, large margin, overall size 19" x 14" fresh, but folded with separation, very fresh otherwise 75.00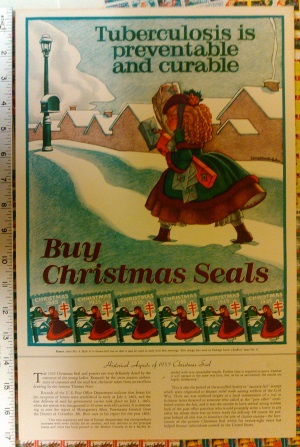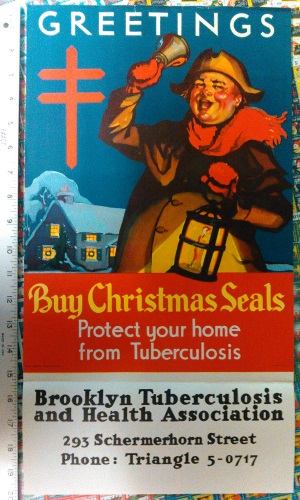 1935 11" x 17" excellent, but old unstained fabric water tape on perimeter of back, Historical aspects... text at bottom 35.00
1937 on paper, excellent condition 35.00
1937 on paper, folded at bottom with Brooklyn TB 50.00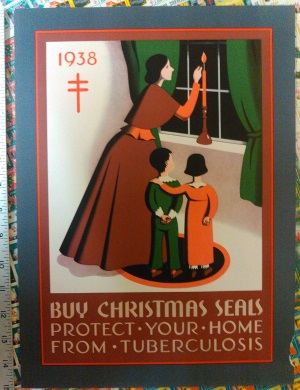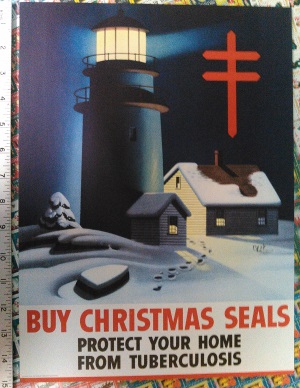 1938 Mother lighting candle with children, enlarged seal design - Wanted
1940 on paper, very nice condition $35.00
1940 on paper, folded at bottom, with Brooklyn TB, 11" x 17 1/2" 50.00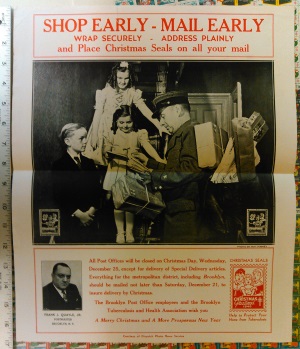 1940 unusual poster featuring postman delivering the mail with Brooklyn PM portrait, folded 50.00
1940 original artwork for poste, 11 1/4" x 14 1/2" $350.00
1941 on paper, excellent condition 35.00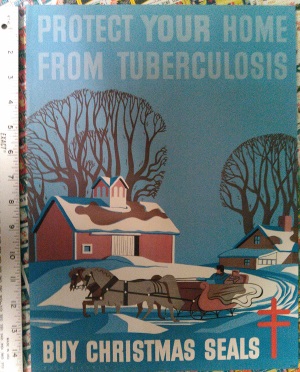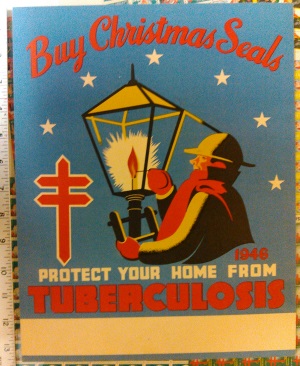 1942 on paper or card $35.00
1943 on paper $35.00
1944 on paper 35.00
1946 11" x 15" on paper 35.00
1946 10 1/2" x 13 1/2" on card 35.00
1947 on paper, excellent condition, but stuck at the very top to foam core board 25.00
1948 on card, fine condition with wrinkles 15.00
1949 on card, F-VF with a little edge roughness 15.00
1949 on paper, unfolded 25.00
1950 on card $25.00
1951, 1953-61, 1963-66, 1968 is $15 for your choice of year
1969-1991, 1993 $5 for your choice of year
1977 "Kick the Habit before you Kick the Bucket, ALA Affiliate" 7.50
Super Sheets
1976-1984 full color 30" x 20", printed on thin white card stock, with enlarged Christmas Seal Sheets, each 10.00
More Posters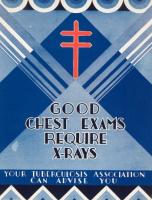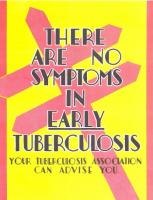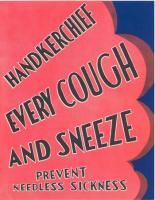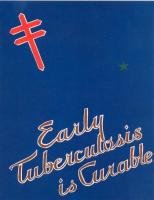 1930's colorful art deco, without date or seal design, aprox 8 1/2 x 11", set of 4 different 25.00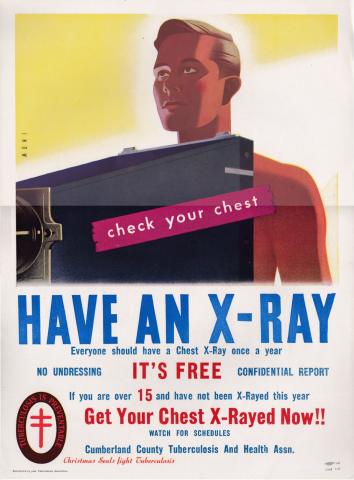 11x15" Cumberland County, X-Ray theme 1950's? horizontal line from scanner, excellent condition $10.00
1955 8 1/2 x 11 5.00
1961 seal design, 8 1/2 x 11 5.00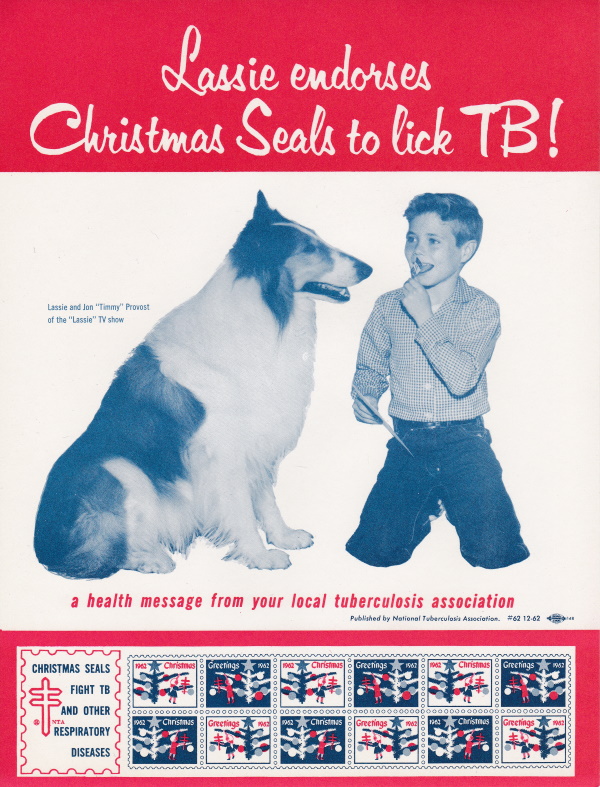 1962 Lassie & Timmy with Christmas Seal design, 8 1/2 x 11" 5.00
1963 seal design 5.00
1964 seal design 5.00
1965 seal design 5.00
1966 seal design 5.00
1976 mini poster 11" x 8 1/2", full color sheet design 5.00
1977 mini poster 8 1/2" x11", full color enlarged 'kid art' seal design 5.00
1978 CT No Smoke Day, aprox 11 x 17" 5.00
1980 CT No Smoke Day, aprox 8 1/2 x 11" 3.50