Ray Mosbaugh wrote the All Fund Catalog which lists US fundraising seals issued for causes other than TB & Red Cross, and is divided into sections. The American Bible Society section includes some very interesting seals. The entire All Fund Catalog is available on a computer CD in pdf files for $8.95 + $2 shipping and is available from me. I distribute all of the Christmas Seal & Charity Stamp Society literature.
 
270 different Am Bible Society, beginning With #1, illustrated below $50.00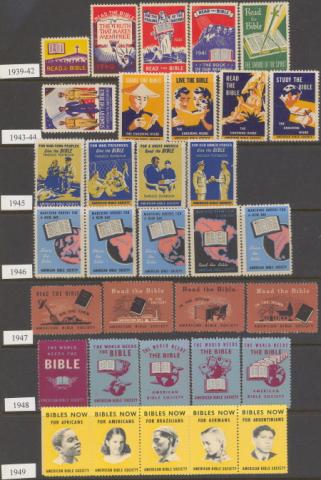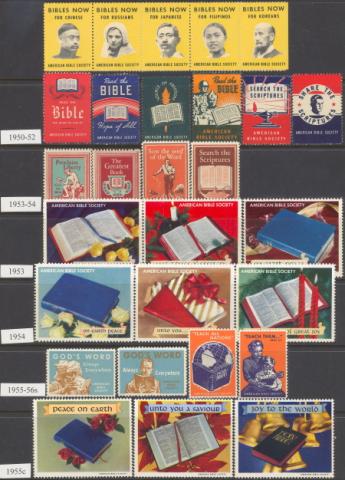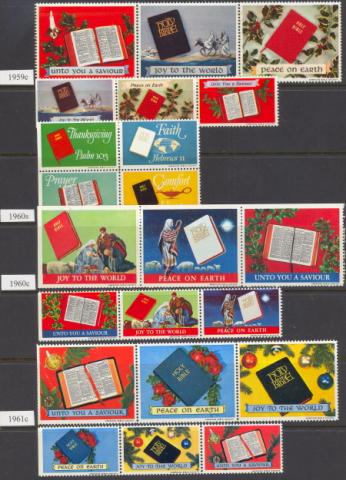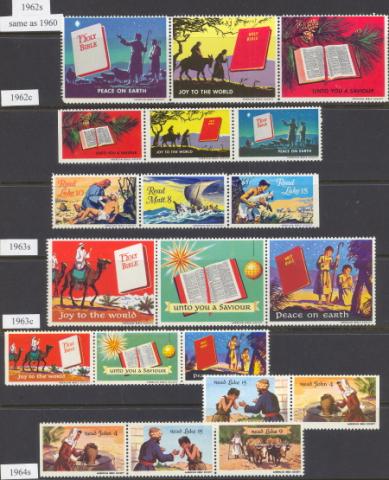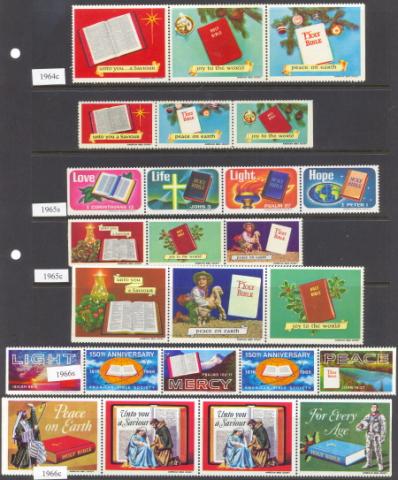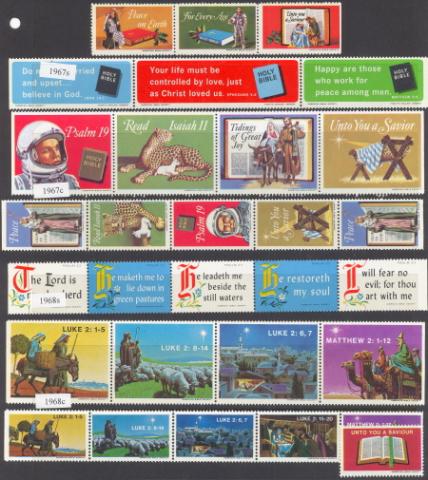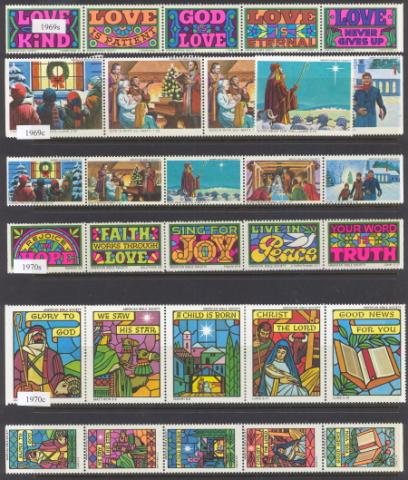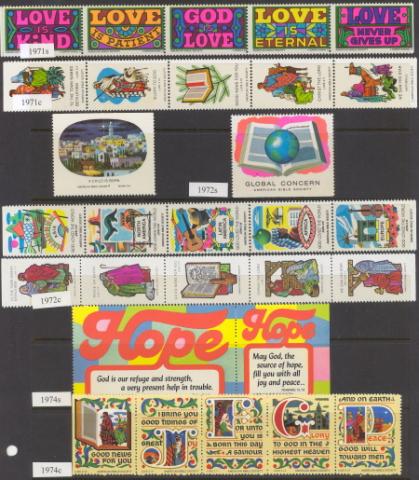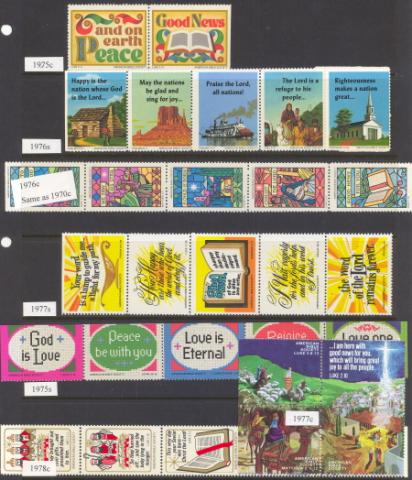 Full Sheets
Expect some separations reinforced with tiny, nearly invisible strips of stamp hinge.
The oversized sheets of 100, folded in the middle long ago, mount nicely in a standard
8 1/2 x 11" top loading sheet protector filling both sides. Purchase a long run of common
$5 sheets for the special; price of $3 each.
#1x 1934 sheet of 100, "Read the Bible" $15.00
2x 1940 oversized sheet of 100, Statue of Liberty, with 4 diff corner slogan seals 20.00
3x 1941 oversized sheet of 100, 2 diff., woman holding bible, and Mt. Rushmore 15.00
4x 1942 oversized sheet of 100, Bible & sword with 4 corner slogan seals 15.00
5x 1943 oversized sheet of 100, Soldiers & Sailor 15.00
6x 1944 oversized sheet of 100, 15.00
7x 1945 oversized sheet of 100, Soldiers, POW's & Abe Lincoln 15.00
8x 1946 oversized sheet of 100, maps, N. & S. America, Europe, Asia, & Africa 15.00
9x 1947 oversized sheet of 100, 4 diff, home, farm, school & desk 15.00
10x 1948 oversized sheet of 100, 5 diff, globes of the earth 20.00
12x 1949 oversized sheet of 100, 10 diff, nationalities & ethnic groups 15.00
13x 1950 oversized sheet of 100, 6 diff with 4 occuring once each in the center block 20.00
14x 1951 oversized sheet of 100, 6 diff with 4 occuring once each in the center block 20.00
15x 1952 oversized sheet of 100, 2 diff, lamp & Bible 10.00
16x 1953 oversized sheet of 100, 2 diff, proclaim Liberty & Bible 10.00
17x 1953 Christmas issue, sheet of 20, 3 different Bibles  7.50
18x 1954 oversized sheet of 100, 2 diff, lamp & sower of seeds 10.00
19x 1954 Christmas issue, sheet of 20, 3 different Bibles  7.50
20x 1955 oversized sheet of 70, 2 diff, man with turban, and American reading the Bible 7.50
21x 1955 Christmas issue, sheet of 20, 3 different Bibles 7.50
22x 1955 oversized sheet of 70, 2 diff, mother & child, Globe & Bible 7.50
23x 1956 Christmas issue, sheet of 20, 3 different Bibles 7.50
24x 1957 oversized sheet of 70, 4 different Bibles 7.50
26x 1957 Christmas issue, sheet of 20, 3 different Bibles 7.50
27x 1958 oversized sheet of 40, 3 different Bibles 7.50
28x 1958 Christmas issue, sheet of 20, 3 different Bibles 5.00
29x 1958 Christmas issue sheet of 45, 2 different Bibles 7.50
30x 1959 Spring issue, sheet of 20, Bible with large bottom margin 7.50
31x 1959 Christmas issue, sheet of 20, 3 different Bibles 5.00
32x 1959 Christmas issue sheet of 45, 3 different Bibles 5.00
33x 1960 Spring issue, sheet of 50, 4 different Bibles 5.00
34x 1960 Christmas issue, sheet of 20, 3 different Bibles 5.00
35x 1960 Christmas issue sheet of 45, 3 different Bibles 5.00
37x 1961 Christmas issue, sheet of 20, 3 different Bibles 5.00
37x variety 1961 Christmas issue, sheet of 20, seals arranged differently,
3 different Bibles with large bottom margin 7.50
38x 1961 Christmas issue sheet of 45, 3 different Bibles 5.00
40x 1962 Christmas issue, sheet of 20, 3 different Bibles 5.00
41x 1962 Christmas issue, sheet of 45, 3 different Bibles 5.00
42x 1963 Spring issue, sheet of 50, 3 different, lost sheep, good Samaritan 5.00
43x 1963 Christmas issue, sheet of 20, 3 different, shepherds, star & camel 5.00
44x 1963 Christmas issue, sheet of 45, 3 different, shepherds, star & camel 5.00
45x 1964 Spring issue, sheet of 50, 5 diff., woman at the well & prodigal son 5.00
46x 1964 Christmas issue, sheet of 24, 3 diff., open Bible, red Bible & ornaments 5.00
47x 1964 Christmas issue, sheet of 45, 3 diff., open Bible, red Bible & ornaments 5.00
48x 1965 Spring issue, sheet of 50, 5 different Bibles, Love, Life, Light & Hope 5.00
49x 1965 Christmas issue, sheet of 24, 3 different, shepherd, Bible, holly & lamp 5.00
50x 1965 Christmas issue, sheet of 45, 3 different, shepherd, Bible, holly & lamp 5.00
51x 1965 Experimental Christmas issue, sheet of 45, 3 diff., Magi & Flight to Egypt 10.00
52x 1966 Spring issue, sheet of 50, 4 different, Bibles, Light, Mercy & Peace 5.00
53x 1966 Christmas issue, sheet of 24, 4 different, astronaut, leopard, etc. 5.00
54x 1966 Christmas issue, sheet of 45, 3 different, astronaut, shephard, etc. 5.00
55x 1967 Spring issue, sheet of 30, 4 different, Bibles & text 10.00
56x 1967 Christmas issue, sheet of 24, 4 different, astronaut, leopard, etc. 5.00
57x 1967 Christmas issue, sheet of 45, 4 different, astronaut, leopard, etc. 5.00
58x 1968 Spring issue, sheet of 45, 5 different, 5 different text seals 10.00
59x 1968 Christmas issue, sheet of 24,  5 different Bible scenes 5.00
60x 1968 Christmas issue, sheet of 45, 6 different Bible scenes 5.00
61x 1969 Spring issue, sheet of 45, 5 different "Love" 5.00
62x 1969 Christmas issue, sheet of 24, 5 different Christmas eve service & carolers 5.00
63x 1969 Christmas issue, sheet of 45, 5 different Christmas eve service & carolers 5.00
64x 1970 Spring issue, sheet of 45, 5 different, Hope, Faith, Joy, Peace & Truth 5.00
65x 1970 Christmas issue, sheet of 22, 5 different stained glass windows 5.00
66x 1970 Christmas issue, sheet of 42, 5 different stained glass windows 5.00
67x 1971 Spring issue, sheet of 45, similar to #61x but lighter and diff shades of color 5.00
68x 1971 Christmas issue, sheet of 37, six different, Bethlehem, camel, etc. 5.00
69x 1972 Spring issue, sheet of 37, six different, Asia, Africa, Europe, etc. 5.00
70x 1972 Christmas issue, sheet of 40, 5 different, mosaic tile designs 5.00
71x 1973 Spring issue, sheet of 34 different text seals 5.00
72x 1973 Christmas issue, sheet of 20, 7 diff illuminated manuscript seals 5.00
73x 1974 Spring issue, sheet of 14, 2 different "Hope" & Bible verses 5.00
74x 1974 Christmas issue, sheet of 25, 5 diff illuminated manuscript seals 5.00
75x 1975 Spring issue, sheet of 25, 2 different, Good News & Peace 5.00
78x 1976 Christmas issue, sheet of 40, similar to #66, but dated in margin 5.00
79x 1977 Spring issue, sheet of 25, 5 different Bible & text 5.00
80x 1977 Christmas issue, sheet of 22, 3 different Bethlehem 5.00
81x 1978 Spring issue, sheet of 25 text seals with flowers 5.00
82x 1978 Christmas issue, sheet of 44, 3 different, Magi, Shepherd & Bible 5.00