Let me help you build your topical collection. Tell me what your topic is, and I will make a list and add it to my website.
When it comes to Ice Hockey, Peter Laimins has saved me the trouble by writing a Philatelic Catalog of Ice Hockey, which, in addition to postage stamps, includes Christmas Seals and Charity Labels. 
Of course, I suggest purchasing a Green's Catalog so you can see what your getting, or at least photocopying your collection, and I will avoid any Christmas Seals in your topic you already have. These topical collections and lists do not include many varieties, such as imperforates, and progressive color proofs which are in stock. My first request is for Santa Seals, so I wrote a comprehensive list of all Christmas Seals with Santa and made up a few sets to get started with.
Other topics well represented in Christmas Seals and charity labels include; Nurses, Hospitals, Angels, Children, Snow, etc.
Santa Topical Christmas Seal Collections
Early US Santa Seal Set

1912 F SE, 1913 F, 1914 F SE, 1915 F NG, and 1916 AVE SE $17.50
These seals are not damaged, however I do have better quality seals, see list below
Later US Santa Seals, Set #2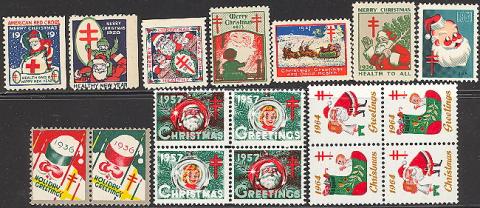 1919 AVE SE, 1929 AVE SE, 1921 SE, 1923, 1927, 1930, 1936, 1951, 1957 block, 1964 block $1.40
Santa Claus on Christmas Seals- a complete listing
US National Christmas Seals
WX10 1912 superb 20.00
WX10 1912 EF 15.00
WX10 1912 VF (PH) 11.00
WX10 1912 F 7.50
WX10 1912 AVE 5.00
WX11 1913 type 1 Wanted
WX12 1913 type 2, EF 10.00
WX12 1913 type 2, VF 7.50
WX12 1913 type 2, F 5.00
WX12 1913 type 2, AVE 3.75
WX13 1913 type 3, EF 10.00
WX13 1913, type 3, VF 7.50
WX13 1913, type 3, F 5.00
WX15 1914 superb 20.00
WX15 1914 EF 15.00
WX15 1914 VF 10.00
WX15 1914 F 7.50
WX15 1914 AVE 5.00
WX16 1915 EF 15.00
WX16 1915 VF 10.00
WX16 1915 F (PH) 7.50
WX16 1915 AVE 5.00
WX18 1916, perforation 12, VF 5.00
WX18 1916, perforation 12, F 3.75
WX18 1916, perforation 12, AVE 2.50
WX18a 1916, perforation 12x12 1/2, F 5.00
WX18a 1916, perforation 12x12 1/2, AVE 2.50
WX18b 1916, perforation 12 1/2x12, VF 15.00
WX18b 1916, perforation 12 1/2x12, F 11.25
WX18b 1916, perforation 12 1/2x12, AVE 7.50
WX18c 1916, perforation 12 1/2, VF 15.00
WX18c 1916, perforation 12 1/2, F 11.25
WX18c 1916, perforation 12 1/2, AVE 7.50
WX24 1919 type 1, perforation 12 .25
WX24a 1919 type 1, perforation 12x12:00 .25
WX24b 1919 type 1, perforation 12 1/2x12 .25
WX24b 1919 type 1, thick paper 1.50
WX24b 1919 type 1, very thick paper 7.50
WX24c 1919 type 1, perforation 12 1/2x12:00 2.00
WX25 1919 type 2, perforation 12 1/2 .25
1919-2.1 1919 type 2, perforation 12 x 12 1/2 Fine $85.00
1919-2.1 1919 type 2, perforation 12 x 12 1/2 Fine, SE $42.50
1919-2.2 1919 type 2, uncoated paper 10.00
1919-2p1 1919 roulette by perf 10.00
WX26 1920 type 1, perforation 12x12 1/2 .50
WX26a 1920 type 1, perforation 12 .50
WX27 1920 type 2, perforation 12 1/2 .50
WX28 1921 type 1 .35
WX29 1921 type 2 .35
WX29a 1921 type 3 .25
WX31 1923 perforation 12 1/2, VBG .15
WX31a 1923 perforation 12, HBG (horizontal broken gum) 2.50
WX31b 1923 perforation 12x12:00, VBG 2.50
WX31c 1923 perforation 12 1/2x12, VBG 5.00
WX31d 1923 perforation 12, VBG 2.00
WX31e 1923 perforation 12:00x12, VBG 2.50
WX39 1927 type 1, perforation 12, HBG .10
WX39a 1927 type 1, perforation 12, SG 1.00
WX40 1927 type 2, perforation 12 1/2 .10
WX41 1927 type 3, perforation 12 1/2 .10
WX42 1927 French Canadian 1.00
WX43 1927 English Canadian 1.00
WX55 1930 perforation 12 1/2, VBG .10
WX55a 1930 perforation 12, VBG .50
WX55b 1930 perforation 12:00x12, VBG .25
WX55c 1930 perforation 12 1/2x12 2.50
WX55d 1930 booklet pane of 10 (PH) 1.00
1930-1.5 1930 perf 12x12T booklet pane 5.00
WX56 1930 perforation 12 1/2, SG .10
1930 red buttons 1.00
WX80 1936 perf 12 1/2x12, pair .10
WX81 1936 perf 12 1/2, pair .10
1936 four corner slogan blocks (PH) 1.00
WX155 1951 perf 12 1/2x12 .05
WX156 1951 perf 12 1/2 .05
WX184 1957 perf 13, block .20
WX185 1957 perf 12 1/2, block .20
WX186 1957 perf 11, block .50
WX187 1957 perf 10 1/2x11, block (SE .50) 1.00
WX188 1957 perf 10 1/2, block (SE 1.50) 3.00
WX220 1964 perf 12 1/2, block .20
WX221 1964 perf 11, block .20
1970, 1975 thru 1980, 1995, and 1996- These are "all different" sheets which each contain a single Santa seal
WX242 1970 perf 12 1/2, sheet 1.00
WX243 1970 perf 11, sheet 1.00
WX244 1970 perf 11x10 1/2 10.00
WX254 1975 perf 12 1/2, sheet 1.00
WX255 1975 perf 11, sheet 1.00
1975-4x 1975 simulated perforations over roulette test sheet 100.00
WX256 1976 perf 12 1/2, sheet 1.00
WX257 1976 perf 11, sheet 2.50
WX258 1976 perf 13, sheet 1.00
1976-5x 1976 roulette test sheet 10.00
WX259 1977 perf 12 1/2, sheet 1.00
WX260 1977 perf 11, sheet 1.50
WX261 1977 perf 13, sheet, reinforced 1.50
WX262 1978 perf 12 1/2, sheet 1.00
WX263 1978 perf 11, sheet 1.00
WX264 1978 perf 13, sheet 1.00
WX265 1979 perf 12 1/2, sheet 1.50
WX266 1979 perf 11, sheet 1.00
WX267 1979 perf 13, sheet 1.00
1980-1x perf 13, "S" coated paper 1.00
1980-1.2x perf 13, "S" English finish 1.50
1980-2x perf 12 ½, "F" 1.00
1980-2.1x perf 12 ½, "F" dry gum sheet 5.00
1980-2.2x perf 12 ½, "F" English finish 1.50
1980-3x1 perf 11, small "B" 1.00
1981-T4 Santa and dogs (terrier) block of 14 10.00
1981-T5 reindeer design (with Santa), strip of 9 3.00
1981-T6 Santa and dog design, strip of 9 3.00
1981-T7x best of children's art, all diff sheet 15.00
1982 block of 14, available in perforation 13, 12 1/2 or 11, each .50
1982-T5 Santa and dove design, block of 14 5.00
1982-T6 Santa strip of 7 6.00
1983 strip of 7, perf 13 .25
1983 strip of 7, perf 11 .50
1983-T4 Santa and dove design, block of 14 5.00
1983-T5 Santa and dove design, block of 15 7.50
1983-T6x Santa sheet, with jumbo labels 15.00
1984 block of 14, perf 13 or 11, each .50
1984 block of 14 perf 12 1.00
1984-T6 Santa & snowflake, block of 14 5.00
1984-T7 Santa and sleigh design, block of 14 2.50
1984-T8xa children's art design, all diff sheet 7.50
1984-T8xb as above but white gum, sheet 10.00
1985-T5 toys design (with Santa), block of 14 1.00
1985-T8 Santa and candy design, strip of 7 .50
1986-T5 Candy Claus design, block of 14 1.00
1986-T6 previous years designs, block of 14 1.00
1987 block of 14 perf 12 1/2 .50
1987 block of 14 perf 11 1/2 .75
1987-T4, perf 12 ½, mini sheet of 56 (8x7), seals reduced in size, no printer's mark 2.25
1987-T5 perf 12 ½, mini sheet of 54 (9x6), no gift tags, no printer's mark 2.50
1987-T6x2 perf 12 ½, mini sheet of 30 (5x6), no printers mark (same as 87-1x3) 4.00
1987-T7 perf 12 ½, mini sheet of 30, gift tags at bottom of sheet, no printer's mark 2.50
1987-T8 perf 12 ½, mini sheet of 18 (3x6), gift tags only, no printer's mark 4.00
1987-T9 Candy Claus design, block of 14 1.00
1987-T10 Candy Claus design with jumbo seal, block of 11 1.00
1988 block of 14, perf 11 1/2 .50
1988 block of 14, perf 12 1/2 1.00
1988-T4 Santa and child design, strip of 7 .50
1988-T8x & T9x set of 2 self adhesive sheets 10.00
1989-T6 Santa and toys design, block of 14 1.00
1990-T7 Santa with pack design, strip of 7 .50
1992-T6 Santa with pack design, strip of 6 .50
1994-T5x children's art with state names (with Santa), sheet 2.00
1994-T6x children's art without states (with Santa), sheet 3.00
1995-1x perf 12 ½, no printer's mark, GCIU union label 1.75
1995-2x perf 12 3/4x12 1/4, no union label 2.00
1995-6x1 Webcraft, no printer's mark, roul 9, seal size 27.75x17.5mm 3.00
1995-6x3 Webcraft, no printer's mark, roul 9, skinny sheet (5x11), with wide text seal 24.50
1995-6x4 Webcraft, no printer's mark, roul 9, seal size 26x17.5mm 2.00
1995-T9x children's design sheet (with Santa) 17.50
1996-1x perf 11 ½, no printer's mark, GCIU union label 1.00
1996-1.3x perf 11 ½, no printer's mark, GCIU union label, silver ink 7.50
1996-4x self adhesive 4.75
1996-5x simulated perf over roulette 10.00
1996-T10x kid art design ('96 contest, with Santa) 6.00
1997-T3x kid art design, self adhesive sheet 4.75
1999-T6x1 Collector's Edition design,self adhesive sheet of 41 5.00
1999-T6x2 Collector's Edition design, reproductions of old seal designs, self adhesive sheet of 35, "For more info...www.lungusa.org" backing, personalized with donor's name 5.00
1999-T6.1x1 Collector's Edition with Watercolor Snow Scenes, reproductions of old seal designs, self adhesive sheet of 36 5.00
1999-T6.1x2 Collector's Edition with Watercolor Snow Scenes, self adhesive sheet of 30,
"Financial info..." backing 5.00
2003-T6x Snowman, Birds, Santa & Angel Design, self adhesive sheet of 48 + 16 special occasion seals at bottom 4.75
2004-T5 Santa, Snowmen & Toys on silver foil, 5 designs, sheet 4.75
2005-1x2 sheet of 42, 6x4 + 6x3, with horizontal gutter $5.00
2005-1.8 unexploded booklet of gift tags with Santa, reindeer, sledding, and Christmas tree 2.25
2005-1.8 unexploded booklet of gift tags with Santa, reindeer, sledding, and Christmas tree 2.25
2005-T1, T1.6, T1.8, T2, T2.6 - WANTED
2006-1 Santa, Snowmen & Toys x1) sheet of 56 without gift tags 1.75
x2) sheet of 42 (6x4 + 6x3) with horizontal roulette gutter separating the sheet into 2 smaller sheets, gift tags at right. 4.75
x3) sheet of 64 without gift tags (8x2 + 8x3 + 8x3) with 2 horizontal roulette gutters separating the sheet into 3 smaller sheets. 3.75
2006-1.6
2006-1.8
2006-T2 Reindeer, Santa, Penguin, Snowman & Cat on, sheet of 56 3.75
2006-T2.6 - WANTED
2006-T4 Santas, Toys & Girl with Light, sheet of 56 3.75
2006-T4.6 - WANTED
US Local TB Santa Seal Set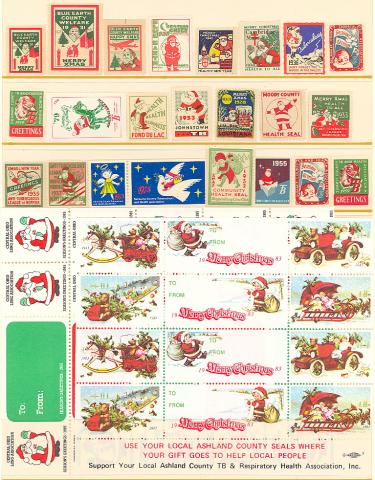 Set of 24, as follows, including a pair, and several sheets $9.95
206 1931 Blue Earth, Mankato, MN. Santa .25
207 1931 Blue Earth, Mankato, MN. Larger Santa .25
209 1933 Blue Earth, Mankato, MN. Santa & Airplane .25
215 1939 Blue Earth, Mankato, MN. Santa .25
271 1921 Cambria Co., Johnstown PA. Santa 1.00
281 1930 Cambridge MA. US National Seal with overprint .35
401 1936 Chicago Municipal TB, Santa and house .15
432 1957 Delaware Co., Muncie IN. Head of Santa .25
434 1959 Delaware Co., Muncie IN. Head of Santa .25
442L 1979 Delaware Co., Muncie IN. Santa on hobby horse .25
631 1930 Fond du Lac, WI. Santa and infant .15
785 1953 Johnstown, PA. Santa .15
985 1928 Louisiana, New Orleans, LA. Santa .25
1108A 1976 Maury Co., Columbia, TN. Santa .20- not illustrated
1291 1935 Moody County, Flandreau, SD. Santa .25
1462 1933 Norfolk, VA. Santa .25
1464 1935 Norfolk, VA. Santa .25
1466 1937 Norfolk, VA. Santa on Skis .25
2158 1973 Santa and angel, pair .20
2159 J 1983 Ashland Co., OH. Sheet of 12 (6 diff) with Santa 2.00
2681 1932 Shippensburg, PA. Santa .25
3014 1955 Summit Co., Akron, OH. Santa .25
3016 1957 Summit Co., Akron, OH. Santa .25
3018 1959 Summit Co., Akron, OH. Santa .25
Unlisted Central OH. 1985 sheet of 30 $3.00
Scarce US Local TB Santa Seals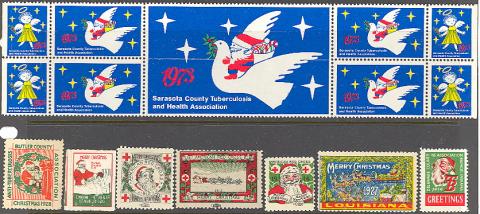 247 1928 Butler Co., PA. Santa 7.50
291 1926 Canton OH. Santa, VF NH $50.00
291 1926 Canton OH. Santa, VF NG $25.00
291 1926 Canton OH. Santa, NG, Faults $10.00
411 1912 Fine, similar to US National (SE 75.00) 150.00
411 1912 Very Fine, similar to US National (SE 100.00) 200.00
412 1913 Average, similar to US National (SE 25.00) 50.00
412 1913 Average- Fine, similar to US National (SE 30.00) 60.00
412 1913 Fine, similar to US National (SE 37.50) 75.00
412 1913 Very Fine, similar to US National (SE 50.00) 100.00
413 1914 similar to US National, Average (SE 13.25) 26.50
413 1914 similar to US National, Fine (SE 17.50) 35.00
413 1914 similar to US National, VF (SE 26.25) 52.50
984 1927 Louisiana TB, New Orleans, LA. Santa, sleigh and reindeers 10.00
1111 1936 Maybury Sanatorium, Northville, MI. Santa out of stock- WANTED
2158.3 1973 Large seal (folded to fit in transmittal envelope by the press that printed the sheet) + 4 small pairs, Santa $5.00
Worldwide Santa TB Seal set- $37.50
This scan does not illustrate the Denmark #60x, and GB #39, however these items are included in your set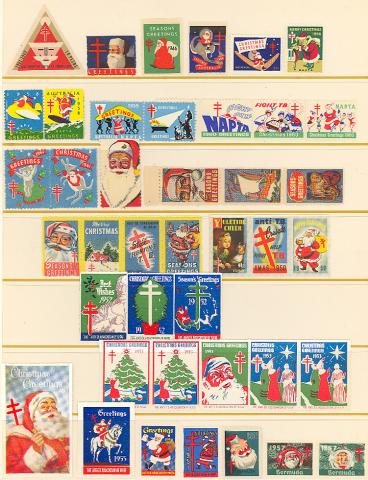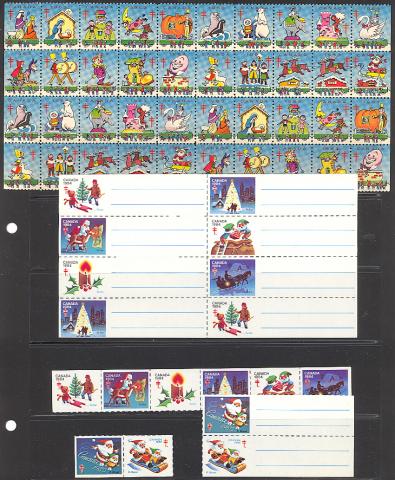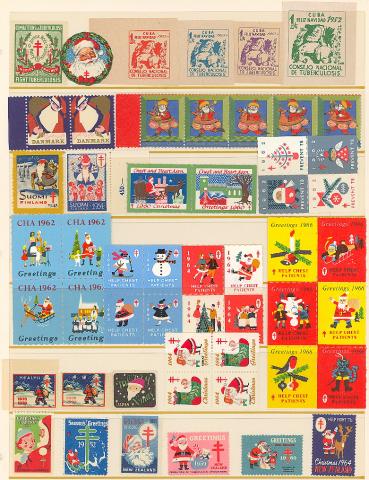 Argentina
22 1961 Santa .35
Australia
2 1944 head of Santa .35
3 1946 Santa with pack .35
6 1949 Santa on a kangaroo .35
9 1952 Santa on a boomerang .25
13 1956 koala bear dressed as Santa .25
15 1958 Santa on surfboard and in airplane, pair .30
16.1-.2 1959 Santa and aborigines carrying boomerang, and nativity, pair .30
17 1960 Santa and children dancing, ship, and nativity, strip of 3 .30
18 1961 Santa and kangaroo, koala on map of Australia, pair .30
52 1944 head of Santa, SE $1.00
53.1-3 1948 boy by fireplace, ship, and Santa, strip of 3, US lookalikes for 1923, 1928, and 1930 .55
54.1-.4 1949 Santa, Santa with pack, and snow scene with cottage, strip of 4 .60
55.1-.3 1950 Santa with pack, boy and dog, strip of 3 .60
59.1-.3 1952 Santa with sleigh and reindeer, and doctor, strip of 3, Xmas issue .55
61.1-.3 1953 Christmas tree, Santa, and shepherds, strip of 3, Christmas issue .55
63.1 1954 Santa .25
65 1955 advance sample, darker blue .35
67 1956 Santa with letter, Christmas issue .20
69 1957 Santa, Christmas issue .20
Bermuda
6 1951 Santa, similar to US with "Bermuda" added .25
12 1957 Santa and child on Christmas tree ornaments, pair, as US, but "Bermuda" .35
19 1964 Santa, skaters, angel carolers, and Xmas tree, block of 4, GB lookalike .60
21 1966 Santa, bells, candle, snowman, cat, bird, ornaments, and sledding, block of 6, GB lookalike .60
24 1969 Santa, reindeer, bird, lamp, and angel, strip of 5, GB lookalike .60
26 1971 Santa and reindeer with motorcycle, tow truck, cart, and jack, strip of 6, GB lookalike .75
1987 Santa in chimney, GB lookalike .25
1991 Santa walking with sack, and robin, GB lookalike .30
Brazil
132 1949 head of Santa 1.00
153 1953 Santa, US 1951 lookalike 1.00
154 1954 Santa, US 1951 lookalike 1.00
Canada
1 1927 Santa in sleigh with reindeers, US lookalike, No Gum .50
2 1927 #1 with "Bonne Sante" ovpt. for French Canadians 1.00
7 1930 Santa and tree, similar to US .45
8 1930 Santa and tree, French text, similar to US, straight edge .50
15 1934 Santa .35
16 1934 Santa, French text .35
62 1963 Mother Goose nursery rhyme characters, cat, wolf, elephant, swan, skiing clown, cow, pumpkin, Eskimo, bears, seals, etc., block of 40 2.50
1983 Santa, computer, mailbox with letters, and Christmas tree, strip of 3 .45
1983 Santa, computer, mailbox with letters, and Christmas tree, strip of 3 gift tags (3 diff.) 1.00
1984 Santa, Rudolph, elves, horse & sleigh, sledding, holly, and Christmas tree, strip of 6, SE .50
1984 Santa, Rudolph, elves, horse & sleigh, sledding, holly, Christmas tree, pane of 8 gift tags (6 diff) 2.50
1985 Santa and elf, skating and on a toboggan, pair .30
1985 Santa and elf, skating and on a toboggan, gift tag pair .75
97 1925 double barred cross in holly wreath, SE $2.50
289 1928 head of Santa, die cut 1.00
Cuba
15 1952 Santa and boy .15
17.1-.3 1953 Santa and boy, set of 3 .40
Denmark
57 1958 Santa, pair .30
60.x 1959 costumes, sheet of 50 diff., #51.x with overprint 17.50
69 1968 musical Santas, strip of 5 .75
FInland
25 1948 Santa and pack .25
31 1954 Santa and children .25
Great Britain
31 1960 winter scene, pair .30
34 1961 ornaments, etc., block of 4 .50
35 1962 Santa and children, block of 4 .50
36 1963 snowmen, etc., block of 4 .50
38 1964 Santa and angels, block of 4 .50
39 1964 block of 15 diff. 3.00
42 1966 Santa, cat and bird, strip of 6 .60
Japan
25.1-.2 1938 Santa, set of 2 2.00
251 1949 Santa 1.00
New Zealand
1 1952 Santa and reindeer 1.00
5 1955 Santa .35
6 1956 Santa and child .35
9 1959 Santa and toys .30
10 1960 Santa and girl .25
14 1964 Santa and reindeer .25
Nicaragua
12 1964 Santa and stocking, US block overprinted for use in Nicaragua, SE 5.00
South Africa
27 1954 Santa with pack, pair .40
30 1957 Santa, pair .40
32 1958 Santa, pair .50
Scarce Worldwide Santas, not included in the set
Australia
277 1984 sheet of 18 (6 diff.), Santa with toys and nativity 5.00
1985 sheet of 18 (6 diff.), Santa with toys and nativity 5.00
1986 sheet of 18 (6 diff.), Santa with toys and nativity 5.00
1987 sheet of 12 (4 diff.), Santa with toys and nativity 3.50
1988 Santa with toys, set of 2 .35
1989 Santa and toys, set of 2 .35
1990 Santa and toys, set of 2 .35
Brazil
133 1950 head of Santa, #132 with "1950" ovpt. 5.00
Canada
60.x 1961 Santa, snowman, Xmas tree & gifts, snowflake, carolers, Indian, totem pole, boats, sports (canoeing, figure skating, mountain climbing, skiing, logging, sledding, rugby?, tobogganing, and hockey), animals ( bear, seal, moose, deer, rabbit, squirrel, big horn sheep, beaver, whale, fish, penguin, cardinal, sea gulls), sheet of 100 6.00
165 name at bottom, VF, hinged 25.00
212 1912 Santa, NG 6.00
218 1918 Santa's head 6.00
221 1921 Santa 6.00
222 1922 Santa 6.00
290 1929 Santa, die cut 2.00
292 1930 Santa- out of stock
293 1934 Santa 1.50
359 1919 Santa, faulty 2.50
404 1912-16 Santa, die cut 4.00
409 1925 Santa 5.00
471 1918 Santa 5.00
680 1926 Santa, no gum 37.50
Cuba
16 1952 souvenir sheet 1.50
18 1953 souvenir sheet 1.50
28 1958 Santa - out of stock
Great Britain
26x 1957 picture sheet of 100 3.50