Product Description
Cries of London, set of 6 different large prints. The image size is 11x15" on 19 1/2x 25 1/2" paper. These were printed in France in the 1920's. The line in the illustration is from my scanner, and is not a flaw in the print. These large prints are in F-VF condition, and may have a few closed tears well outside the image area, and are very suitable for framing: 1) "2 bunches a penny, 2 bunches a penny, plate 1"; 2) "Milk below maids, plate 2"; 3) "New mackrel, new mackrel, plate 5"; "4) Knives, scissors and razors to grind, plate 6"; 5) "A new love song only hapenny a piece, plate 11", and; 6) "Hot spice gingerbread, plate 12"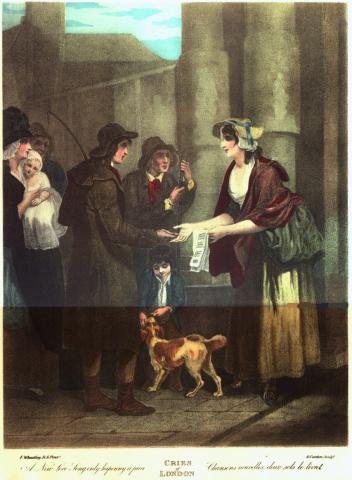 Payment and Shipping Information
Fast Service, Competitive Prices, and of course, Satisfaction Guaranteed; Ohio residents add your county sales tax. Orders under $100.00 add $3.25, all other domestic orders are postpaid. International buyers pay actual postage. Payment by PayPal (to jdenune@roadrunner.com), personal check, money order, or cash. I'm always interested in purchasing seals, and am happy to answer any Christmas seal questions.